I was recently asked some interview questions for a post in my online oily group, so I thought it would be fun to share the answers on the blog, too.  I absolutely adore our community of crazy hippie friends who are like-minded and desire a natural lifestyle for their families.  It's incredibly supportive to make connections with a group of people who are walking a similar path toward natural living.  Instead of just managing symptoms over and over again, they are ditching the chemicals and using preventative wellness measures for their families.
Essential oils are an awesome complement to a wholistic lifestyle because they offer support to all body systems, as well as help with restful sleep and emotional needs like calming, focusing, and stress relief.  Likewise, they are a fantastic alternative to room sprays and candles, along with replacing mainstream home cleaning products, laundry, and personal care products, which can create tons of yucky side effects.
Briefly introduce yourself:
Hi there! I'm Nicole, wife to my high school sweetheart and mama to four amazing kiddos. I spend my days homeschooling my children, fermenting all the things, wrangling chickens, pretending to be a gardener, and trying to figure out the hobby farm thing.
How long have you been a Young Living member?
I've been a Young Living member since 2014, when my dear friend, Melissa, convinced me I needed to buy my Premium Starter Kit!  I was pretty skeptical at first and thought that essential oils sounded too good to be true, but she was convicted about them helping her kids wind down in the evenings.  Especially as an adoptive mama with kids from hard places, that sounded pretty intriguing to me!


What was the reason you got started with oils and the wellness lifestyle?
Actually, my oils mostly sat on a shelf in my kitchen for a long time.  Though I had been pursuing chemical-free cleaning since my first baby was born in 2005, essential oils definitely weren't a way of life for me back then. Oil education wasn't as readily available at the time, and the learning curve felt too steep and overwhelming to traverse.  I didn't know how much oils could actually make my life less overwhelming, so I didn't make the time to understand them.
However, over the next several years, my understanding and love for oils grew exponentially.  They make chemical-free cleaning so much easier, and they offer so many other benefits as well.  My entire family uses oils now, including my husband!  Essential oils have blessed my family's wellness way beyond my wildest imagination!  Our bodies are healthier, we get sick less (prevention, friends!), we sleep well, we're calmer, and we're more focused.
Knowing that I have the tools to care for my family naturally, without harsh chemicals and toxic ingredients, is a complete game-changer.  From treating head stuffiness and muscle tension, to practicing healthy skin care routines, to household cleaning products … we use oils every day for everything.  They are a perfect complement to a wholistic wellness lifestyle.
As I lead my family to natural, oily, chemical-free living, I've experienced the incredible healing impacts of living a preventive lifestyle. In fact, I've become so convicted about using oils and living wholistically that I will soon complete my year-long training to become a certified holistic health & wellness coach! It will be such a privilege to help other moms experience the same freedom and abundance through natural wellness.


When did you begin Essential Rewards? When did you start?  Why do you love it?
I began using Essential Rewards in 2015, but didn't truly start taking advantage of all its goodness until 2017. I LOVE that I get to provide my family with such healthy, high quality products on a regular basis.  And what's even better is being able to take advantage of all the free promotions that come along with ER!  I've received thousands of dollars in free products just by switching out where I purchase my personal care and household products.  It's such a win-win!
What are your top 5 Young Living Products?
My top 5 favorite YL products (after a huge list that I somehow dwindled down) are:
1. Thieves – because it's completely changed our household with every single Thieves product. Seriously #allthethieves.  We use just about all of them and have replaced so many toxic products.
2. Ningxia Red – it's the supplement everyone takes everyday without a fuss, and I know it's supporting our bodies in big ways.
3. Lavender – I use this baby everyday, especially in our Chillax roller and in my nighttime diffuser blend of Lavender, Cedarwood, Vetiver, and Ylang Ylang.
4. Alkalime – I know this may seem like an odd supplement choice when there are so many good possibilities to choose from, but I drink Alkalime all the time to support healthy alkalinity as well as sooth the occasional upset stomach.  I always keep a couple packets with me wherever I go.
5. Wolfberry Eye Cream – I LOVE this stuff and start to panic when I run low. Not only is it great for my almost-39-year-old eye skin, it's been really helpful for other minor skin irritations as well.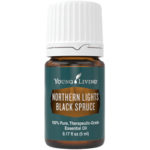 What is something that you got for free as a promo that has become something you love?
I've received so many amazing free products via ER, but one that's sticking out to me right now is Northern Lights Black Spruce. I love diffusing it with Stress Away and Bergamot – it's an instant calmer in my house!

Statements regarding essential oils have not been evaluated by the Food and Drug Administration. Products and suggestions on this website are not intended to diagnose, treat, cure, or prevent disease. If you are pregnant, nursing, taking medication, or have a medical condition, consult your health care provider before using these products.



When you are ready to join me on this incredible journey of natural wellness, I will be here to support you wholeheartedly. I feel passionate about holistic living and want to help as many families as possible enjoy it as well. Simply click on the link below to get started.