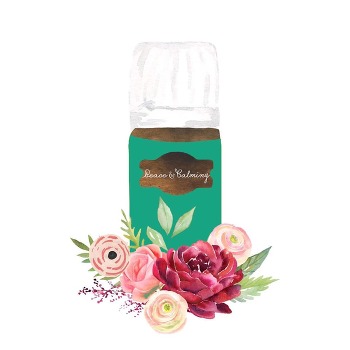 A new addition in the 2019 Premium Starter Kit, Peace & Calming is a gentle Young Living proprietary blend of Ylang Ylang, Orange, Tangerine, Patchouli, and Blue Tansy essential oils.
And people love it for good reason!
This fragrant oil is a wonderful addition to your meditation, evening routine, or playtime with the kids. With a comforting, fresh aroma, Peace & Calming essential oil creates a relaxing environment that's especially great for homes with children. You'll love that you can use this oil for your children's bedtime and then for yourself for a moment of quiet after the house has settled down.
The Blue Tansy essential oil in this blend is well know for its chemical constituent, chamazulene, which is responsible for the oil's deep blue color.  It is an antioxidant that offers many benefits – do a little Google research to find out more!
Ways to use Peace & Calming:
➕Diffuse this oil to freshen the air, especially in rooms where children play or study
➕Apply to the bottom of feet before bed as part of a bedtime ritual for your whole family
➕Dilute for a calming back massage before naps or bed
➕Keep a stash of this oil diluted in a 10ml roller bottle with you wherever you go for those times when you need a little extra calm
➕Diffuse with Citrus Fresh for a bright, invigorating scent that's perfect for mornings before school or practice
➕Diffuse with Stress Away for a relaxing break or quiet time
➕Diffuse with Valor to tame tantrums (for children and adults!) and restore order in the house
➕Add 4-5 drops to 1 cup Epsom salt for a calming bath at the start of the day or as part of an evening routine
➕Add to Young Living Bath & Shower Gel Base for a cleanser your entire family will love

Statements regarding essential oils have not been evaluated by the Food and Drug Administration. Products and suggestions on this website are not intended to diagnose, treat, cure, or prevent disease. If you are pregnant, nursing, taking medication, or have a medical condition, consult your health care provider before using these products.



When you are ready to join me on this incredible journey of natural wellness, I will be here to support you wholeheartedly. I feel passionate about holistic living and want to help as many families as possible enjoy it as well. Simply click on the link below to get started.